Australia's medium-duty truck industry has been blessed with two new additions — the HINO 500 Series Wide Cab and Standard Cab.
Soon, we'll see the complete set of HINO 500 series trucks on the road and based on the reviews so far, there's a lot to be excited about.
New Hino 500 Series
Let us break down the all-new HINO 500 Series for you.
HINO 500 Series Wide Cab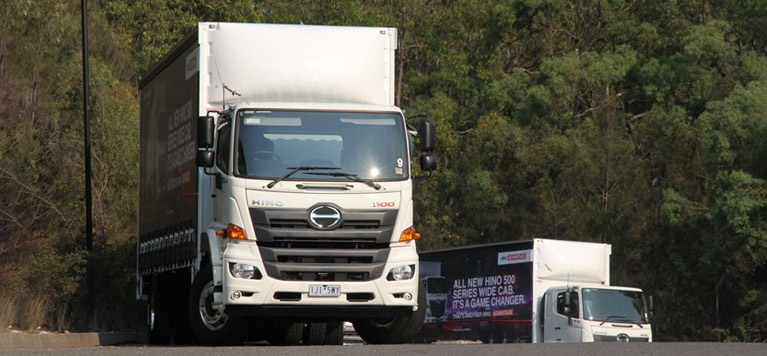 Released in the first quarter of 2017, the Wide Cab proved to be popular with Australian trucking companies. The Wide Cab came with three different engine output options:
280hp/883Nm (Hino J08E 6-cylinder engine),
350hp/1422Nm (Hino A09C 6-cylinder engine with manual transmission), and
320hp/1275Nm (Hino A09C 6-cylinder engine with automatic transmission).
The Hino 500 Series Wide Cab models with manual transmissions are available in Hino MX06, Eaton ES11109, and Hino M009OD transmissions depending on the specs selected by the consumer. They all come with a 9-speed gearbox. On the other hand, the automatic model has a 6-speed Allison gearbox with push button shift selector.
The Hino J08E and Hino A09C engines are both enhanced to deliver greater output, better cooling, and outstanding fuel efficiency. Both engines also promise to have lower emissions for more environmentally-friendly truck driving.
In terms of safety, the 500 Series Wide Cab includes the most comprehensive active safety package among medium-duty trucks in Australia. Vehicle Stability Control is standard on all models, and so are the reverse camera, traction control, Cruise control, fog lamps, and an Anti-lock Braking System (ABS).
Hino 500 Series Wide Cab is built for hard work but with a seriously handsome appearance. Its interior is designed to reduce drivers' fatigue using the pendulum style pedals, comfortable seats, plus a tilt and telescopic steering.
HINO 500 Series Standard Cab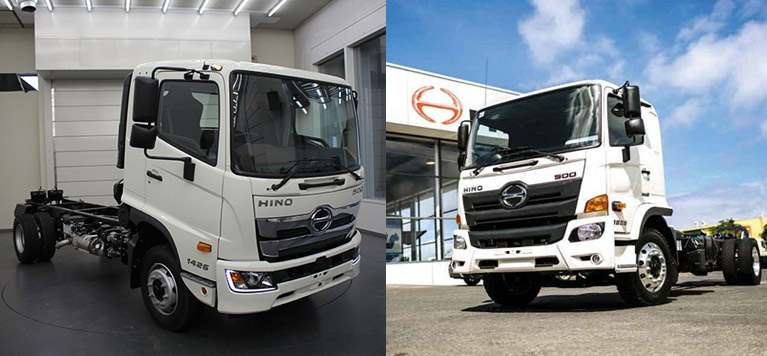 This intelligent medium duty truck makes driving easy and convenient. Much like the Wide Cab, the 500 Series Standard Cab is equipped with the best active safety features available in the market. These include Adaptive Cruise Control, Pre-Collision System (PCS) with Pedestrian Detection, Vehicle Stability Control, Safety Eye and ABS, and Lane Departure Warning.
The Standard Cab has three models: FC, FD, and FE. The three are available in 54 different vehicle specifications, depending on the engine, transmission type, suspension, vehicle mass and combination mass, and wheel size. All of them are powered with a heavy-duty Hino A05 Turbocharged Four-Cylinder Diesel engine that varies per Standard Cab model.
The HINO 500 Series Standard Cab FC 1124 and FD 1124 models are equipped with an A05-TE engine (240hp/794Nm). Meanwhile, the FE 1424 Crew model is powered by an A05-TD engine (240hp/833Nm). Lastly, Standard Cab FD 1126 and FE 1426 models are fitted with top-performance A05C-TC engine (260hp/882Nm).
All Standard Cab model variants, released in Australia just last month, are available in a six-speed Allison automatic transmission and a six or seven-speed manual transmission. The HINO 500 Series Standard Cab FD 1124 and FE 1426 are also available in Automated Manual Transmission.
The Standard Cab models have a Driver Instrument Panel, Multimedia Unit, Reverse Camera, and a new interior layout for driver comfort and convenience.
HINO 500 Series Built to Go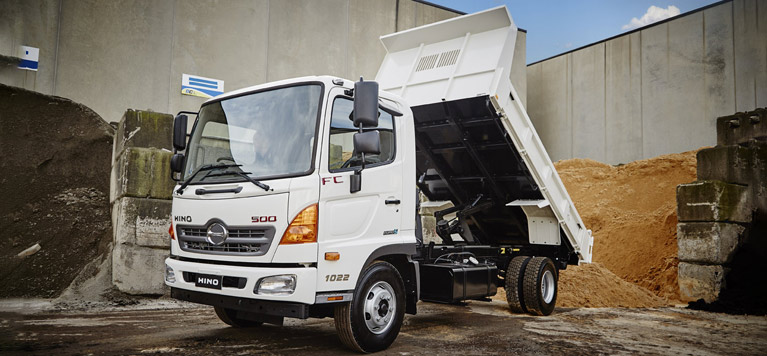 If a medium duty truck tipper is what you are looking for, HINO 500 Series won't disappoint. The 500 Series Built To Go Tipper is an affordable truck with a tipper body solution.
To start with, the model is built with a 3.6m or 4.0m-long genuine steel tipper body to complement all standard equipment in HINO 500 Series trucks. The Built To Go also has the best active safety features like Adaptive Cruise Control, ABS, Hill Start & Take-off Assist, Brake Lock System, Vehicle Stability Control, Lane Departure Warning, and SRS Airbags.
HINO Australia is yet to announce the release of the 500 Series Built To Go Tipper in the country. But when it does, the Tipper will be equipped with HINO A05C-TE Turbocharged 4-Cylinder engine that is capable of 240hp and 794Nm of torque.
HINO 500 Series 4X4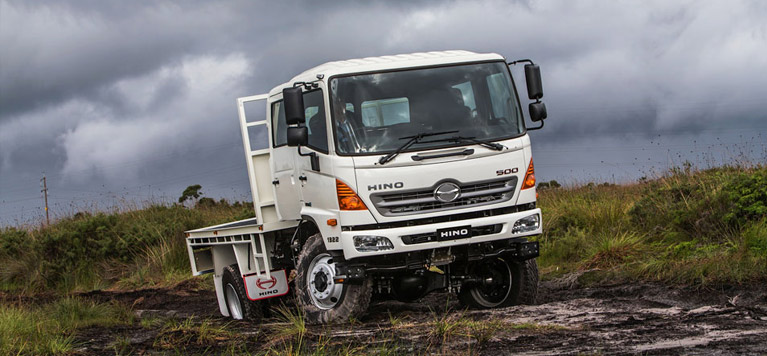 Similarly, there is no news yet as to when the HINO 500 Series GT 1322 will hit the Australian market. However, it's still definitely worth waiting for.
This 4X4 medium truck will be available in single or crew cab varieties. They will be powered by a Hino J08E VE Turbocharged Diesel engine with a 215hp/637Nm output. The GT 1322 and GT 1322 Crew will also be available in 6-speed LX06 S manual and 5-speed Allison 2500 Automatic Transmissions.
Some of the key features of HINO 500 Series 4X4 include the standard safety techs like the Driver SRS Airbag, Cruise Control, and an Anti-lock Braking System. It also has an ISRI 6860/870 series driver seat plus Heated & Electrically Operated External Mirrors.
Truck finance deals with Aussie Truck Loans
The all-new HINO 500 Series trucks are some of the best medium-duty trucks that you can get on the market. If you're planning on expanding your fleet with any of the HINO 500 Series trucks, get your truck financing at Aussie Truck Loans.
We provide a wide range of financial solutions for new and used trucks so your business can get the best loan rates for your needs. Use our Truck finance calculator to work out your potential repayments.
Call Aussie Truck Loans now on 1300 889 669 or apply online to get pre approved for a HINO 500 Series Wide Cab or Standard Cab in no time.