There's a saying – well, two in fact – in the world of mobile phone apps:
* There's an app for that
* If you don't think there's an app for that, there's an app for that too
And the world of trucking is not immune. A little bit of web research has been able to dig up some amazing stuff – complete video/computer games based on, you guessed it, trucking around various parts of the world.
SCS Software will be releasing a game called "American Truck Simulator" and is getting ready to release a new version of its popular simulator, "Euro Truck".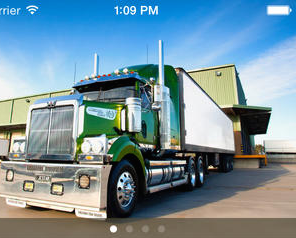 Here's what you get for $8.99 with your download of Euro Truck:
"…a European first – a truck simulation game in a European setting, with European long haulage trucks! Drive cargos from Rome to Berlin to Madrid to Prague – and many more cities – in realistic vehicles. Euro Truck Simulator is a faithful reproduction of driving trucks on the European road. Drive across a realistic depiction of Europe, visit its beautiful cities, pick up a variety of cargos, and deliver them on time!"
Just like in real life then.
In the blurb for the new American version, SCS say that the new American Truck Simulator will cover the entire continental USA and have over a hundred cities for you to truck into (and presumably out of).
A quick check on iPhone reveals there are 2,200 results searching for the word 'truck' on the AppStore, anything from 3D Monster Truck Parking to Trucking Parking Simulator (with 4.5 million players) to serious apps from the likes of Volvo and DAF.
Our guess is that very few of these are anything other than a bit of fun, played mainly by non-truckers. We may be completely wrong, but our theory is if you spend all day (or all night) trucking, the last thing you'd want to do is more trucking on your iPhone.
However, there are a few useful apps for truckers out there. Here are a few we've found (there are a lot of apps for truck drivers in the US, not so many for Aussie truckers):
Truckie's Mate
This app is designed to give you the information you need at your fingertips as you're trucking around Australia. Probably the most useful function is the Accident Help feature, which allows you to record all the relevant information if you end up having a smash, location, time, damage incurred and witness details (it also prompts you for all of these, so you don't forget), plus you can upload photos from the accident scene. As well as this little app, Truckie's Mate includes a truckstop finder, information on the laws relating to driver fatigue in all of the states and, for Western Star drivers, details of their closest dealers.
Developed in the US, this app for iPhone/iPad/Android, which has Australian map data integration, customises map information to give truck drivers route options which are truck legal, safe and reliable:
This app helps you to log your trips, and, although it isn't a replacement for the legal requirement to keep a 'work diary', certainly helps you compile this information and keep a backup record. Data can also be exported from the app:
Trucking Magazine
A UK magazine, but with lots of relevant information about the trucking scene in general.
You're not going to need any truck finance to get your hands on any of these apps, but when your app tells you it's time for a new truck, you'll know who to call!
Image credit: Star Assist