It's the dawn of the age of electric vehicles. Manufacturers all over the world are racing to supply the growing demand for these eco-friendly automobiles. Right now, the competition for electric trucks in Australia seems wide-open.
Tesla, the world leader in electric cars, is developing a heavy-duty truck called Semi, but it will take a few more years before we could see even a prototype. Volkswagen is also investing $2 Billion to put an electric engine on its trucks over the next five years. Almost all the major manufacturers have their own plans too.
Little do they know that a company in Australia is already leading the way in electric trucks and it is way ahead of the pack.
SEA Electric Truck
SEA Electric, an automotive tech company based in Victoria, produced nine EV10 electric trucks around July last year that have since been running on Australian roads. These trucks were the result of $517,000 funding received by the company in 2016 to finance a manufacturing facility for commercial electric vehicles. This grant came from the Labour Government's $2 million New Energy Jobs Fund.
Australian logistics company, Kings Transport, became the recipient of the zero-emission commercial trucks. They were delivered to the company's headquarters in the presence of Lily D'Ambrosio, the Minister for Energy, Environment and Climate Change of Victoria.
"Today we're seeing the results of a fantastic initiative, made possible thanks to our New Energy Jobs Fund," D'Ambrosio said. "We're helping businesses right across the state develop a diverse range of new energy technology projects to help support this vital sector", she added.
Sea-Drive™ Technology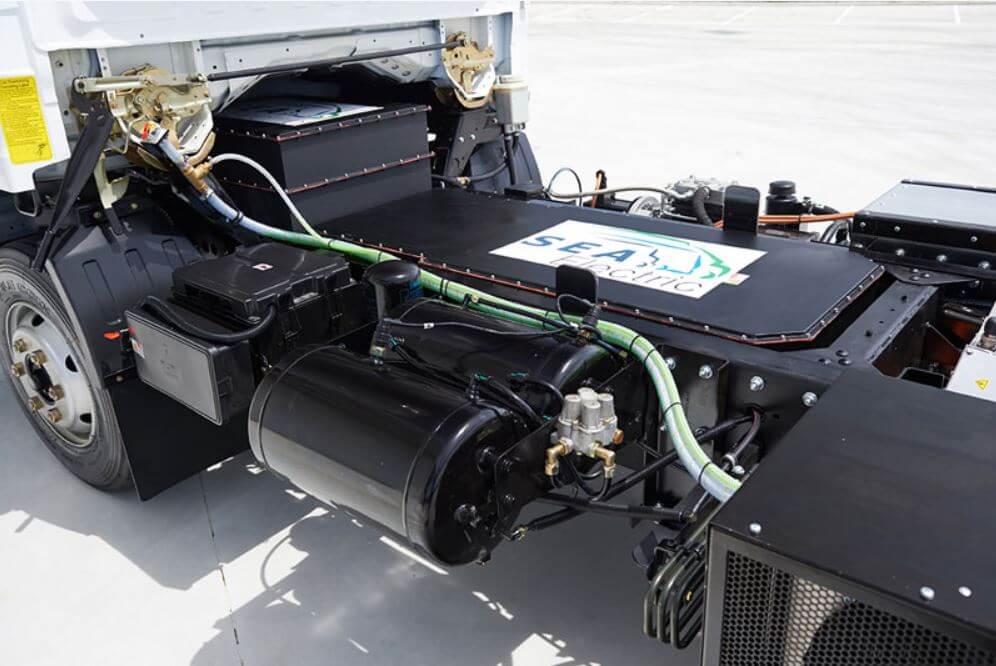 SEA Electric was able to manufacture the electric trucks through its Sea-Drive™ technology. It's a fully-integrated electric system that can be fixed to different donor commercial vehicle platforms, making them fully-electric vehicles. Currently, SEA Electric is offering three electric drivetrains:
Sea-Drive™ 70
This model can fit 5m-7m minibus and vans. It has a 70kW battery pack that produces 340 Nm of torque, a top speed of 100km/h, and 0-50km/h in just 5 seconds. This model has a 22kW charger that fully charges the vehicles in less than 4 hours. The Sea-Drive™ 70 powers the EV4 delivery vans sold by the company.
Sea-Drive™ 120
With a 120kW battery pack, this model can be adopted for 9t to 13t cab chassis trucks. This is the electric drivetrain that was fitted to the nine 10t trucks delivered to King Transport. It's capable of 100kW/1230nM output, a range of up to 180km, and limited top speed of 100km/h. It can be charged completely with the 22kW charger in less than 6 hours.
The Sea-Drive™ 140
Created for larger 14t to 17t trucks, the Sea-Drive™ 140 operates on a 140kW battery pack. It produces 195kW/2060nM continuous power and torque, with a limited top speed of 100km/h, and is fully charged in less than 7 hours. This model is the drivetrain fitted to the SEA EV14, a 14t cab chassis truck produced by SEA Electric.
SEA EV10 vs FUSO eCanter
To put the nine SEA EV10 trucks into perspective, we can compare them to the Mitsubishi FUSO eCanter. It's an all-electric light-duty truck that was released late last year and is now running on the streets of US, Europe, and Japan. FUSO eCanter has six 13.8kW-battery packs that are capable of combined 100km-range when fully charged. It has a top speed of 80km/h and 60-minute complete charging with a DC outlet. This EV will arrive in Australia next year.
Clearly, SEA EV10 is more attractive, except for the charging time. While FUSO eCanter has a Level 3 DC fast charger, SEA trucks are only available with a 240V AC charger (Level 2 charging) at the moment. However, this is intentionally designed by SEA Electric for overnight charging. That is why the SEA EV 10 is ideal for transport operators that do overnight layovers.
Get SEA Electric trucks with Aussie Truck Loans
Not only are the SEA Electric trucks beneficial for the country's efforts in emissions reduction, they will also give job opportunities to skilled workers. "The long-term aim of this project is to develop an innovative range of electric-powered commercial vehicles for a wide range of purposes," D'Ambrosio concluded. The company expects to hire up to 80 assembly personnel for the next four years.
SEA electric trucks are something that all Aussies should be proud of. While large international auto companies are yet to deliver their own EVs for this segment, SEA Electric has manufactured Australian-made all-electric trucks that are already helping the country and the environment.
If you want to purchase a SEA electric truck for your transport business, get a pre-approved loan now with Aussie Truck Loans for easy commercial truck financing. Call us or apply online and join the movement towards an emission-free country.