The National Heavy Vehicle Regulator (NHVR) recently sent out a memo to the trucking industry detailing the correct counting procedures and additions that drivers need to maintain in their work diaries.
The NHVR said that they were prompted to do so after they recently received a wave of calls from concerned truck drivers about how to count work time correctly. Under the law, truck drivers on standard hours can work 12 hours in a 24-hour block and those accredited with a Basic Fatigue Management may work for 14 hours.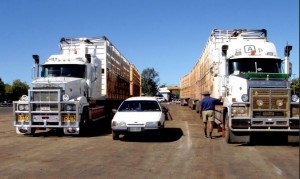 The memo sent out by the NHVR answered most of the common questions posed to them by truckies like how to count a 24 hour period, when does that period restart and what are the rules after taking a major rest break.
Below are some important takeaway points from the NHVR memo:
A 24-hour period starts at the end of any relevant major rest break, which is any period of rest of at least 5 or 7 continuous hours (depending on your work and rest option).
The 24-hour period ends 24 hours later (at the exact same time on the following day), regardless of how much work you have done or rest you have taken during that time.
"It is important to remember that the 5 or 7 continuous hour period for a major rest break is the minimum amount of continuous rest required in a 24-hour period.
A major rest break during this time will only start another 24-hour period. This means that a solo driver (under Standard Hours) who works 12 hours in a 24-hour period must also have a total of 12 hours rest.
It's important to stay on top of these issues for your safety and those around you. You can learn more about Work Diaries and the important work the NHVR does to manage fatigue on their website.