Welcome to our first news update on what's going on in the truck world.
We'll be hunting down interesting stories and news we think you should be across as a truck owner and truck driver.
Today we've got the lowdown on Optimus Prime (the leader of the Autobots in the Transfomer films, if you didn't already know), footage of a tightrope walker pulling off an impressive stunt in the latest Volvo truck ad and the NSW Government's plans to allow huge B-triples on its highways.
Optimus Prime alive and well in Queensland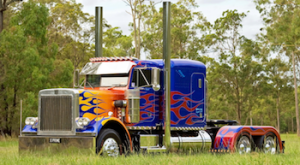 It would be hard to guess what you'd have to pay for this vehicle at a truck auction!
Marshall Watego, owner of Watego & Sons Haulage, spotted the US made 1985 359 Peterbilt truck for sale in 2009, and decided to buy it instead of the Mack Superliner he had planned to get. Originally used in the US as a racing car transporter it was imported to Australia in the early nineties where it was used for long distance parcel freight work before the company went out of business, relegating the Peterbilt to a paddock.
The dilapidated truck was found by the previous owner, licked into shape and put back on the road. Marshall bought the truck planning just give it a new coat of paint, but was inspired by his four young children to turn it into Optimus Prime. Now sporting gleaming chrome and stainless steel, a new colour scheme and over 200 lights, the Peterbilt is the spitting image of the Transformer robotic hero.
Although the truck has won over 20 trophies at shows, it's certainly no show pony – it's a working truck in use every day transporting lime around South East Queensland. The nearly thirty year old truck still has an original 14 litre 261kW (350hp) Cummins Big Cam and has clocked up an amazing 1.7 million kms. And still looks immaculate.
Daring stunt advertises new Volvo Truck
Volvo's ad for its latest truck has a stuntwoman walking a tightrope between two speeding trucks. If that's not bad enough, she has to complete the stunt before the two trucks go into two different tunnels on an unopened stretch of a new highway in Croatia.
Back in the seventies Saab ran an ad showing one of their cars being driven between two large trucks and getting a blowout just as it squeezed into the narrow space between them to demonstrate how well the car would handle. The director of that ad, Adrian Lyne, went on to find fame and fortune directing films like Indecent Proposal, Flashdance and Fatal Attraction.
Directing TV ads with trucks is obviously great training for Hollywood film directors!
B-triples coming soon to a highway near you
Under a draft master transport plan, the New South Wales government is looking at allowing B-triples, that is 30m+ trucks with three trailers, onto its roads in a bid to increase productivity and cut overall truck numbers. If it goes ahead, the government estimates there will almost a million less B-double trips between Sydney and Melbourne over a thirty year period.
B-triples are currently in use in parts of Western NSW, but under the plan highways and bridges will be upgraded to take the new trucks. The scheme will be trialled first on the Hume Highway, with plans for a truck marshalling yard outside Sydney where load on the B-Triples will be transferred to smaller trucks before continuing into the city.